THIS WEEK'S NEW MAP - THE CURE
I am offering THE CURE for Christmas & beyond!
I'm proud to present my tube map-style visualization of 'The Cure's' recording history.
I've transformed the band's journey into an engaging map where each musician is a tube line intersecting with albums, illustrating their contributions.
This piece is both a guide for fans and a unique art piece. Available in various formats; it can be found on my site, www.mikebellmaps.com, and at my shop in Lewes, East Sussex.
Available in PRINTS - A4, A3, A2 & A1 formats - from £9.00 + shipping.
Global shipping options - a great gift for Cure fans..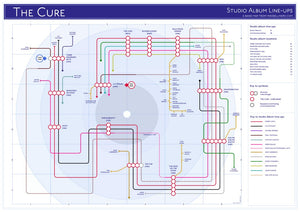 THIS WEEK'S SPECIAL OFFER - NO LIE!
Throughout his 'witness statement', in honour of the liar #BorisJohnson .. the 1,000 day lair is discounted online - get your #Boris Map Li(n)es!
An ideal present for grandma (who thinks the sun shines out of his arse), or the uncle who knows he talks bollocks!
Available in PRINTS - A4, A3, A2 & A1 formats - from £6.75 + shipping.
---
SOME OF MIKE'S TUBE | UNDERGROUND MAPS - SEE MENU FILTERS FOR MORE
MIKE BELL'S TUBE / UNDERGROUND MAP COLLECTIONS
---
WHY I DESIGN TUBE / UNDERGROUND MAPS OF BANDS & OTHER CONNECTIONS?
Mapping out connections, through the form of tube maps, is not unusual, but I wanted to extend the format & reflect on how critical human inter-relationships still are in our shifting digital, post-lockdown, constant download world, where cultural history is being gradually obfuscated.
These tube / underground are my way of creating a bit of clarity. I continue to add to band maps, plot lines, and other data sets. My backstory can be found here.